Top 5 Best Places in Chicago to see Tulips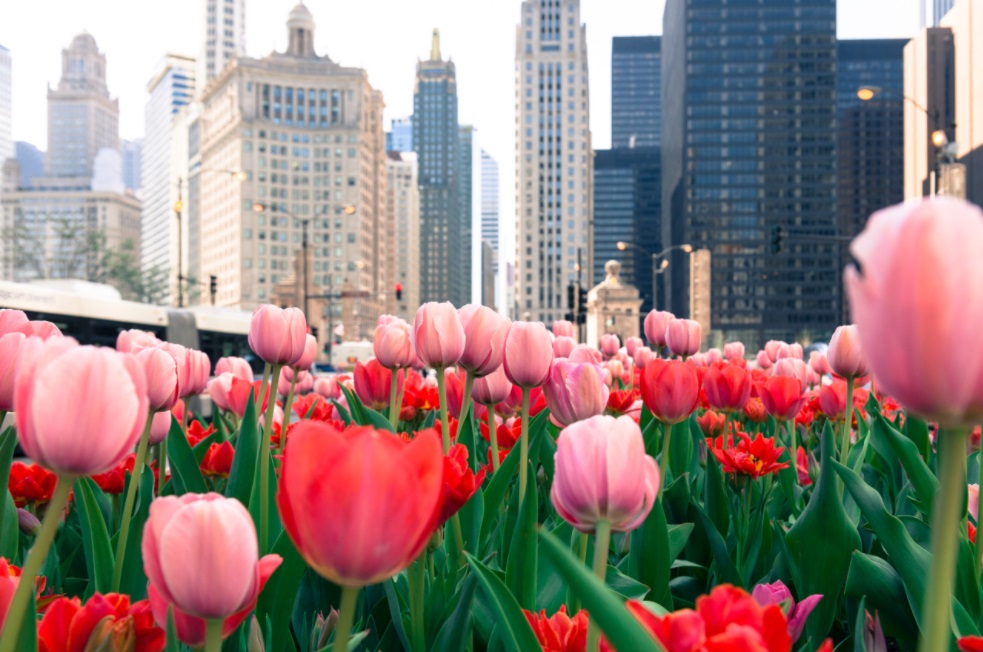 Whether you are visiting Chicago for the first time or that you are a long-time fan of the Wind City, it's always an amazing feeling to see Chicago tulips, especially on Michigan Avenue. That said, this avenue is far from being the only place where you can enjoy the beautiful Chi tulips. Therefore, we listed for you the 10 best places where you can find tulips in Chicago.
Why there are so many tulips in Chicago?
Before we begin, it's worth noting that these tulips don't just all grow by themselves. On the contrary, every year, there are more than 100 000 bulbs that are transported straight from the Netherlands. Those are then planted by the Chicago Department of Transportation across 2 miles of flower beds, which is equivalent to about 3.2km long. Furthermore, each bed contains around 1000 tulips. That's a lot of tulips! And that's not all, many workers are involved in this project to make sure that the blooming season is well coordinated between the different batches of tulips. When winter is about to show itself, a huge bulbs giveaway is put in motion, making a lot of people very happy.
When is the best time to see Chicago tulips?
From mid-April to mid-May, that's your best bet if you want to see the Chigaco tulips fully bloomed in all of their artistic glory. For each year, the colors are carefully chosen in advance, and a plan is put in place at least 9 months prior to the actual project. The Chicago tulip colors vary mostly between red, yellow, orange, white, and pink. For some years, they even had these very special two-toned petals tulips, which are salmon-colored on the outside and orange on the inside.
Top 5 List of the Best Tulip Spots in Chicago
If you're a tourist or a local and you're asking yourself where are the best tulip fields near me in Chicago, well, look further no more, we have the answers:
Michigan Avenue
The famous Michigan Avenue is huge as it goes from Oak Street all the way to Roosevelt Road. The tulips are first planted in October and early November to perfectly time their blooming phase with spring. In early April, the bulbs slowly start to pop, one by one, and it's really a beautiful thing to witness.
State Street
Located in the Loop area, you will often see a bunch of tulips just across the legendary Chicago Theater. Granted, you won't find as many flowers here as when you will walk around the Magnificent Mile and whatnot, but it is still worth every second of your time.
Chicago Botanic Garden
The Chicago Botanic Garden has a total of 27 gardens and 4 natural areas spread across 385 acres on 9 little islands. What's interesting here is the Circle Garden during the month of April, since there is a tulip show every year with thousands of tulips of every color.
Cantigny Park
This awesome place is located 34 miles west of Chicago and is having a great moment of love for tulips in late April and early May. If you are interested in a mini road trip to go there, the exact address of Cantigny Park is 1 S 151 Winfield Road, Wheaton, IL 60189.
Tulip Festivals
For our last spot on the list, we have not 1, not 2, but 3 splendid tulip festivals to recommend! However, please note that these festivals are outside of Chicago city, but well worth the trip if you can spare it. Let's take a closer look at these festivals down below:
Richardson Adventure Farm Tulip Festival
The Richardson Adventure Farm now has its very own tulip festival with over 300 000 bulbs. Those are not only beautiful but they are also varied as there are more than 30 different varieties of tulips all thoroughly placed and designed for perfect picture moments.Of course, the fun doesn't stop there, as you have the usual Adventure Farm treatment which includes food trucks, beer and wine, as well as many free games to play. Moreover, it's worth mentioning that you can bring your dog if you have one. On top of all the activities, kids will just love this place, as they have a gift shop with fresh donuts and popcorn. As an extra note, online ticketing is not available anymore, so you have to purchase them at the entrance.
Holland Tulip Festival
This is simply the largest tulip festival in the US, with not less than 600 000 visitors each year. The festival usually lasts 8 days, between May 7th to May 15th. You don't need any tickets as the admission is completely free of charge. Most of the festival is happening within a 4-mile radius of Downtown Holland (about 150 miles from Chicago). During the 8 consecutive days of the Holland Tulip Time, many shows and events will surprise you and your family. For next year (2022), a week-long immersion experience into the history of the tulip will be held. This amazing assemblage of 50 000 tulips was designed by renowned horticulturist Ibo Gülsen. However, please note that the admission this time around is not free and will cost you $15 – $20.
Pella Tulip Festival
And for our last flower event, the Pella Tulip Festival in Iowa is certainly worth seeing, as it's been running for more than 85 years so far. Yes, they know what they are doing over there, that's for sure! Additionally, there are many fun activities, performances, and delicious Dutch food you can enjoy while you spectate the tulip shows. This event is normally held between May 6th and May 8th.
In conclusion, there are a lot of tulips in and around Chicago as you can see. It is quite remarkable that people give a lot of their energy to connect with nature's beauty. We all need a bit of that in this day and age, and what better way to make someone smile than to offer them a beautiful tulip?